Event: Exhibitions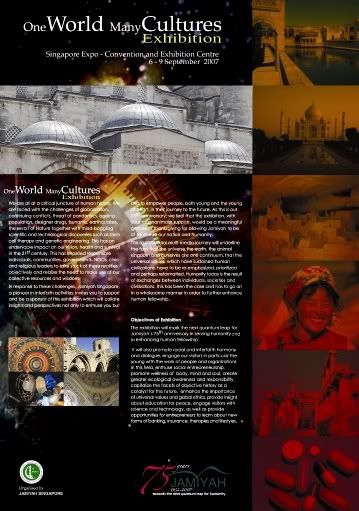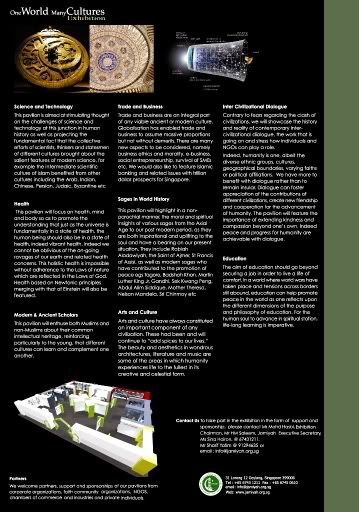 Source : http://www.jamiyah.org.sg/
One World Many Cultures Exhibition: A Journey of Discovery
6-9 September 2007
Singapore Expo-Convention & Exhibition Centre, Hall 6
Jamiyah Singapore, a 75-year old Non Governmental Organization and a pioneer in interfaith activities, invites you to join us in an exciting journey that will take you through different pavilions at our four-day exhibition to be held at the Singapore Expo Convention and Exhibition Centre from the 6 to 9 September 2007.
Objectives of Exhibition
The exhibition will mark the next quantum leap for Jamiyah's 75th anniversary in serving humanity and enhancing human fellowship. It will also promote racial and interfaith harmony and dialogue, engage our visitors in particular the young with the work of people and organizations in this field, enthuse social entrepreneurship, promote wellness of body, mind and soul, create greater ecological awareness and responsibility, capitalize the facets of history as a catalyst for the future, enhance the importance of universal values and global ethics, provide insight about education for peace, engage visitors with science and technology, as well as provide opportunities for entrepreneurs to learn about new forms of banking, insurance, therapies and lifestyles.
More info: Do click
here
for a clearer view of the poster. :)