Event: 'Ilm Sessions
Dear Friends,
The Education-Da'wah Division of
Darul Arqam Singapore
is organizing a series of talk by a renowned speaker, Imam Feisal Abdul Rauf from New York, USA. Indeed, the speakers' knowledge and experience in the religious field promises to make the session an interesting learning venture.
Do click
here
for more details. (: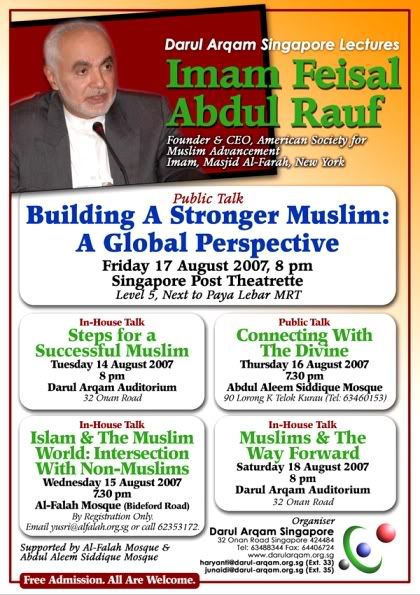 ** Note: Due to unforeseen circumstances, In-House Talk on 18 August 2007 entitled "Muslims & The Way Forward" is cancelled. We apologize for any inconveniences caused. Kindly assist to disseminate this latest development to your circle of friends.
Imam Feisal Abdul Rauf is Chairman of the Cordoba Initiative, an independent, non-partisan and multi-national project that works with state and non-state actors to improve Muslim-West relations.
Imam of Masjid al-Farah, a mosque twelve blocks from Ground Zero in New York City, he has appeared regularly at the Council on Foreign Relations and the World Economic Forum (Davos), and in national and international media such as CNN and BBC He has been interviewed by and quoted in leading print media.