Event: 'Ilm Session
Whoa best! Dr Asri! ^_^ Haiz.. sadly it's at night so I can't go. But.. do come along for those who can k? Would be a beneficial one for the young adults out there. :)
Possible solution? Hmm. Protect the heart, safeguard the faith, and nikah quickly when time permits. :P Hehe no lah. InsyaAllah when the right person appears, and the right time has come.. to take on the responsibilities and blissful life that marriage brings. =)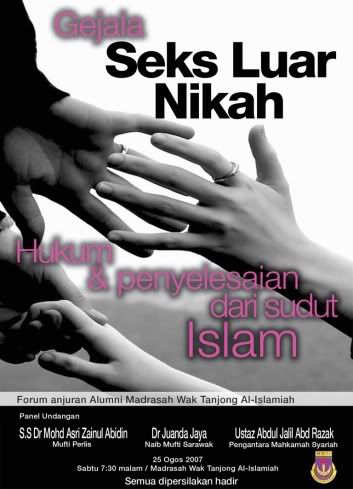 "
Islamic love
- is based on loving for Allah's sake and that means loving what Allah loves about a person: their Iman, their submission, their taqwa, their Islamic manners, good character and strong deen.
These aspects of a person take precedence over other more material or worldly attributes.
For what is beautiful in a man is his degree of servitude to Allah..
"
~ Quoted from the book "From My Sisters' Lips - A unique celebration of Muslim womanhood" by Na'ima B. Robert (: