Event: Workshop
Introductory Khat Course
is part of the MVAC calligraphy series which addresses the educational & training needs for art-lovers both traditional & digital, of all age-group from pre-school to working adults.
The course which spans over 5 sessions starting 18 Aug, has been specially designed to teach a beginner the art of Arabic calligraphy. Participants will expect meaningful practise sessions while discovering the beauty of this written art as an absorbing, discipline, recreation and mode of spiritual expression.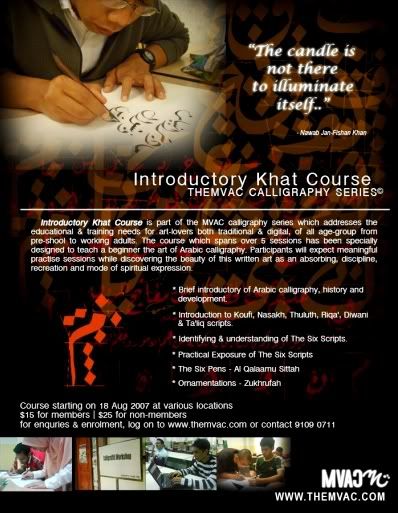 Features of the course include:
* Brief introductory of Arabic calligraphy, history and development.
* Introduction to Koufi, Nasakh, Thuluth, Riqa', Diwani & Ta'liq scripts.
* Identifying & understanding of The Six Scripts.
* Practical Exposure of The Six Scripts
* The Six Pens - Al Qalaamu Sittah
* Ornamentations - Zukhrufah
To register send your name and contact to themvac@gmail.com
Fees: $15 for MVAC members | $25 for non-members
Do click
here
for more details. (: